Financial Calculation Software Products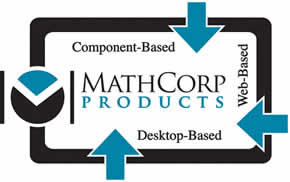 Math Corporation offers savings and loan calculator software products to meet the specific needs of our clients. Our software offerings include:

Component-Based Loan Calculator Software:
Math Corporation offers two proven consumer, commercial and mortgage loan calculator software components – The ZMath® Engine and ZMathReverse®. All loan calculator software components integrate seamlessly with any software or hardware platform.
Web-Based Online Loan Calculator Software:
Web-based financial calculators allow lenders to perform complex loan, reverse mortgage, deposits, and savings calculations online. Users can take advantage of our three classes of web-based products: online loan calculators, online savings calculators and online reverse mortgage calculators.
Desktop-Based Loan Calculator Software:
Our financial calculation software for desktops accurately solves high-level savings and loan calculations. Unlike our component-based software, Math Corporation's desktop products are designed as downloadable software files that operate independently of other platforms. They combine a financial calculation software engine with a user interface.
Each loan calculator software product delivers loan calculations that precisely comply with the Federal Truth in Lending Act (Reg. Z), RESPA (Reg. X), and TRID – ensuring accuracy and peace of mind.
Our software products solutions are the culmination of more than 25 years of development, research, and continual improvement. Lending software solutions are our passion, and our products are enterprise-tested and proven.