Math Corporation Alliance Program & Partner Resources
Math Corporation Alliance Program & Partner Resources
Math Corporation's Alliance Program provides leading software publishers, ASPs, outsourcers, integrators and consultants with client-specific calculation solutions. As a member of our Alliance Program, you benefit from timesaving partner resources designed to streamline efficiency.
Alliance Program Benefits - Partner Resources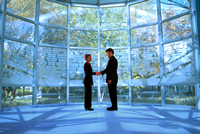 Through Math Corporation's Alliance Program, partner resources are plentiful and beneficial. We hold 30 years of expertise partnering with clients involved in a range of industries. Our Alliance Program delivers the following partner resources and Alliance Program benefits:
Pre-sales support via regulatory expertise and technical assistance
Joint business planning
Sales tools and support
Education and training programs
Proven and easily integrated product
Multiple platform support for quick, low-cost integration of the ZMath® Engine into standard partner and client software architectures (i.e. .NET DLL, Java Mortgage Calculator)
Savings in staff time for development and upgrades
Access to all partner resources
Alliance Program Benefits & Partner Resources - Marketing
Alliance Program partners tap into Math Corporation's best products, services, and partner resources –harnessing them to market their own products and services. As an Alliance Program partner, you can:
Win new clients
Differentiate solutions through shared brand image of the market leading time-value-of-money component
Expand appeal to a broad range of buyers and influencers of lending processes and systems
Partner resources access
Harness Math Corporation's proven name, reputation & partner resources
Leverage Math Corporation's unparalleled industry knowledge
Improve time to market for new loan products
Alliance Program Benefits & Partner Resources - Best Practices
As an Alliance Program partner, you feel secure knowing Math Corporation's proven products and unmatched services are behind you. Additional Alliance Program partner resources include:
"Best of Breed" time-value-of-money implementation
Regulation Z Expertise
Pricing flexibility/economic alignment: per transaction or per user
Timely updates that ensure compliance with constantly changing industry regulations
Incorporation of "best industry practice" in calculation engine
Fast calculations to support peak loan origination volumes
Specialized, in-house Regulation Z expertise no longer needed
"Pay when used" - engine expenditure matches customer revenue
Exceptional engineering support and industry expertise
Partner resources access
Ability to expand or enhance product offering
Spend more time on high ROI enhancements - leave the time and effort required to maintain a reliable, industry leading calculation engine to Math Corp
Built-in support for multiple loan disciplines: mortgage, consumer, auto, commercial, etc.
Calculate APR
Variable Rate Loan Calculation
Loan Amortization Schedules
Loan Interest Formula
Mortgage APR Formula
Mortgage Loan Calculation
Savings Calculation Engine

Math Corporation's Alliance Program offers clients the full gamut of partner resources – industry expertise, continuing software development, support and more. Alliance Program and partner resources deliver unsurpassed efficiencies to Math Corporation clients!